Dessert of the Month Raffle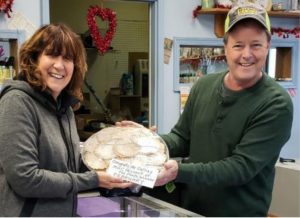 Milton Garden Club member, Carol Lacey, presenting the February dessert of the month to the 2018-2019 raffle winner Mr. J. Collins of Millsboro.
Receive monthly dessert for a year,
beginning with 12 dozen cookies in December!
Tickets for the 2019-2020 raffle are now being sold. They are available from any Milton Garden Club member and will be available at local Milton events during the year.
Tickets: $1 each or 6 for $5
Drawing: December 2019