In 2018 the club celebrated its 20th anniversary with many different activities. We had a silent auction to raise funds for 2 stationary garden gates that we had installed in our park. We had the installation of the garden gates. We did a display and gave a talk about the history of the garden club at our local Historical Society museum. We had a membership dinner celebrating our 20 years where we invited some of the original members, past presidents and local politicians who were helpful with our success over the years. Click on each picture to enlarge it. Roll your cursor over pictures to see the captions.

Silent Auction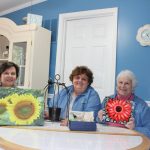 On April 18, 2018 the club held a silent auction to raise funds to purchase 2 stationary garden gates to be placed in Milton Memorial Park to commemorate the 20th anniversary of the club.

Installation of the garden gates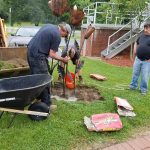 The club commissioned Kerry Rhodes of Forged creations of Delaware City to create the 2 stationery garden gates for the park. One was of tulips and the other of sunflowers. This photo shows the installation of the tulip sculpture by Kerry and his crew.

Presenting the garden gate sculptures:
Garden Gate with tulips | Garden Gate with sunflowers
20th Anniversary Celebration Dinner
In October a special dinner was held for our 20th anniversary celebration. The club started with 11 members attending the first meeting and an additional 9 coming to the 2nd meeting. This was in October 1998. Today we have over 70 members. We invited a number of guests to the dinner including all the past club presidents, as many of the original 20 members that we were able to locate and some town officials who had been helpful in starting the club.