The Milton Garden Club awarded two scholarships for 2019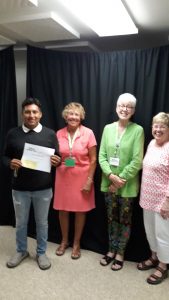 The winner of the $3000.00 scholarship is Ludvin Gonzalez Perez a 2019 graduate of Laurel High School. Ludvin will be attending Delaware Tech and will major in Landscape and Ornamental Horticulture.
The photo shows scholarship chair, Carol Smith presenting Ludvin with his certificate and check. Also shown are committee members Louise Huntley and Mary Kay Williams.
Click on the photo to enlarge it.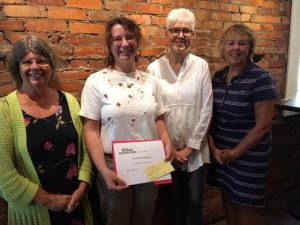 The Milton garden Club awarded their second 2019 scholarship to Carina Lynn Christenbury, a recent graduate of Delmarva Christian High School. Carina will attend the University of Delaware with a major in Natural Resource Management. The scholarship was in the amount of $2000.
The photo shows MGC scholarship Committee Members presenting the award to the recipient Carina. L-R: Diane Lockwood, Carina Christenbury, Louise Huntley and Chair Carol Smith.
Click on the photo to enlarge it.